Branding & Custom Printing
Promote your brand and remind your customers of your quality products and service with custom-branded products.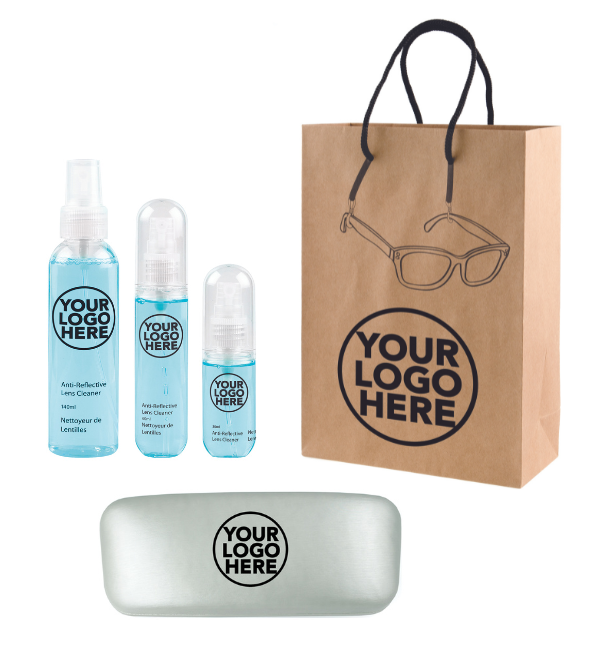 Custom-printed branding is an affordable and effective way to increase brand awareness. Custom-branded products allow you to create a unique design that will leave a lasting impression on your customers.

Branded materials also help to increase brand awareness by making customers aware of your company name and logo when they visit other places with these products. This is especially important if you have an online store as it's difficult for people to remember specific brands just by looking at them briefly on their website or social media page!

Custom printed bags, eyeglass cleaners, and glasses cases can be used to promote your shop, increase brand awareness, and boost sales. Whether you're looking for a promotional bag or a branded eyeglass cleaner, McCray Optical can create all the wholesale custom branded product solutions you need.


Step One: Pick Your Products
Several of our retail products are available for custom branding and are indicated with a circular logo on the page, as seen below. Determine the styles of retail products that you're looking for and grab your logo to get started!
If you see a product that you would like to brand that doesn't have the custom print icon, please contact us to see if printing is available.

Step Two: Choose Your Quantity
Exact prices for each product are shown on their individual pages. We require a minimum of 300 pcs for a custom printing order unless otherwise indicated. For more information, please contact us.

Step Three: Upload Your Logo
Once you've determined the products you'd like branded, contact us with the amount you'd like and a logo for us to use. We request that logos are submitted in the highest quality possible, ideally in vector format (.ai, .eps, .svg, or .png from a vector file) to ensure the best print quality.

If you do not have a vector format of your logo, the next best option is a high resolution (300 dpi) logo in the following file formats: .jpg, .png, .bmp, or .pdf.

If you only have a low-quality logo, word document, scanned image, or screenshot, we can either proceed with the low-quality file given (with your acknowledgement that it may lead to a poor-quality print), or we can create a logo similar to your current one. Please note that there is an additional fee for this logo creation service. For more information about this service, please contact us.

Step Four: Printing
Once we receive your logo, we will produce a proof for your approval. Once you sign off on the proof, we start production on custom printing your products for you.

Step Five: Production & Delivery
Once we start production, we make sure to review prints to ensure they meet our quality standards. Once we review and approve the product, we ship it to you for you and your customers to enjoy!