ACCURATE POINT POSITIONER
A McCray Innovation, the APP (Accurate Point Positioner) was developed to ensure precise and accurate drill point positioning for the L-Bend and S-Bend Titanium Pad Arms. Also useful for guiding position for Glue-on Pad Arms. Get your A.P.P. here.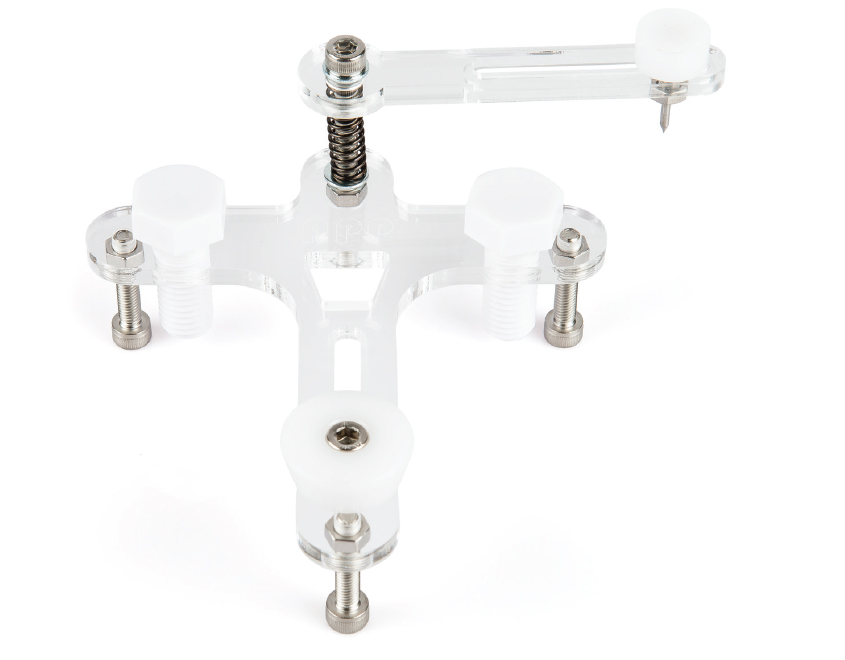 HOW TO USE OUR A.P.P. ACCURATE POINT POSITIONER
1. Remove both temples with a screwdriver.
2. Loosen plastic screws a and b.
3. With the intended implant side facing up, slide eyeglass frame under a and b. Slide c up against frame until frame is snug against all 3 points.
4. Tighten a , b and c.
5. Slide the Marking Pins d on the pivoting arm and adjust the height for the frame. Ensure d hovers just above the frame.
6. Position d to the desired area above the eyewire on one side and press firmly on the pivoting arm to dent the position for drilling.
7. Repeat on the other side of the eyewire.
8. Remove frame from APP, complete implant and re-attach temples.